Quality Sydney roofing contractors available at an affordable price!
A Aadworkin? Roofer is situated in the Sydney?s Inner Western Suburb of Earlwood. Bob has been working in the roofing industry for 25yrs and has had as many years experience in diagnosing and fixing leaking roofs. His professional and friendly approach to his customers and their roofing problems with his roofing knowledge and understanding of the local area is what makes him an excellent choice for all your roofing needs.
All your roofing repairs done professionally with our personal guarantee
Our qualified tradespeople will work with tiled roofing, slate roofing or iron roof mediums. We will replace your old roofing iron with a new zincalume, colourbond, roofing or replace your old roofing tiles with new roofing tiles. Our professional roofing services are guaranteed to please and we are proud to be of service to our much valued customers.
Our professional Sydney roofers aim to get it right first time every time. To back this up we will provide our customers with a 7-year warranty against any faulty work that may arise because of any mistakes made on our behalf.
Bob and his team of professional roofing contractors service the following Sydney suburbs:
✓ Abbotsford, Alexandria, Annandale, Ashbury, Ashfield
✓ Balmain, Birchgrove, Bondi Junction, Bondi, Burwood
✓ Camperdown, Chippendale, Concord, Croydon Park,    Croydon
✓ Darlinghurst, Drummoyne, Dulwich Hill
✓ Earlwood, Edgecliff, Enmore, Erskineville
✓ Five Dock, Forest Lodge
✓ Glebe
✓ Haberfield, Hurlstone Park
✓ Kensington, Kingsford, Kingsgrove
✓ Leichhardt, Lewisham, Lilyfield
✓ Marrickville
✓ Newtown
✓ Paddington, Petersham
✓ Redfern, Roselands, Rozelle, Russell Lea
✓ St Peters, Stanmore, Summer Hill, Surry Hill, Sydenham
✓ Tempe
✓ Ultimo
✓ Waterloo, Waverley, Woollahra
For your free quote contact Bob on 0419 432 213 or fill in our contact form below
Here's what our customers say…
"From the moment that Bob came to quote us for a new roof I could tell that he knew what he was talking about. I look up and admire my new Colorbond roof just like in the ads."

Sam G – Dulwich Hill"
"Just take one look at my new Colorbond roof and you?ll know that these guys are top quality tradesman."

Owner – 218 Victoria Rd Bellevue Hill
"Bob came and replaced my rear skillion roof. Job was completed and Premises were left clean and tidy just like it was stated in the quote. Great job Bob."

Margaret – Marrickville
"We had a terrible leak in our warehouse. A Aadworkin? Roofer identified the problem, carried out all necessary work and now after all this rain we are completely dry. Great work Bob."

Rasko – Marrickville
Bob is a fully qualified roofing contractor and strives to provide his customers with:
assurance that contractors will follow the correct safety procedures while on the jobsite
a competitive price for your roofing repairs and roofing installations
adherence to the Fair Trading practises in concern to the roofing trade
services to the domestic roofing and commercial and industrial roofing industries
free roofing quotes
24hr emergency services for leaking roofs
the best quality roofing products available for the specific job at hand
full assurance that all contractors on the jobsite follow strict OH&S guidelines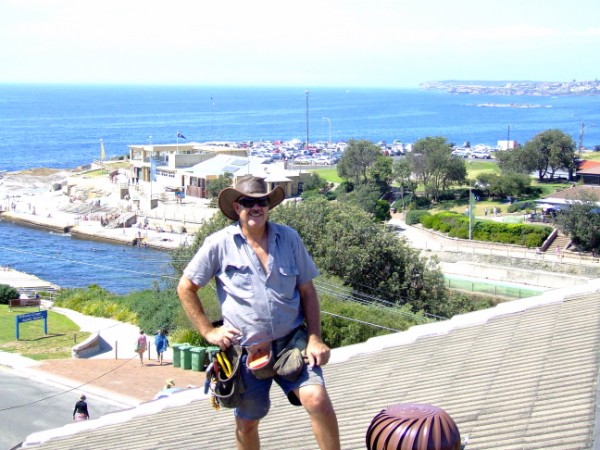 Bob and his team of professional roofing contractors service the following Sydney suburbs:
✓ Abbotsford, Alexandria, Annandale, Ashbury, Ashfield
✓ Balmain, Birchgrove, Bondi Junction, Bondi, Burwood
✓ Camperdown, Chippendale, Concord, Croydon Park,    Croydon
✓ Darlinghurst, Drummoyne, Dulwich Hill
✓ Earlwood, Edgecliff, Enmore, Erskineville
✓ Five Dock, Forest Lodge
✓ Glebe
✓ Haberfield, Hurlstone Park
✓ Kensington, Kingsford, Kingsgrove
✓ Leichhardt, Lewisham, Lilyfield
✓ Marrickville
✓ Newtown
✓ Paddington, Petersham
✓ Redfern, Roselands, Rozelle, Russell Lea
✓ St Peters, Stanmore, Summer Hill, Surry Hill, Sydenham
✓ Tempe
✓ Ultimo
✓ Waterloo, Waverley, Woollahra